Happy Wednesday, everyone
I got a new dream book this week. Salahkan yang sudah posting buku buku yang akan difilmkan. Ada banyaaakkk ya buku yang akhir akhir diangkat ke layar lebar, dari sekian itu, saya hanya pengen membaca beberapa buku saja. Yang lain sih, sudahlah, saya terima tinggal nonton saja, ngga penasaran sama bukunya. Maklum, timbunan film yang diangkat dari buku semakin banyak saja. Kecepatan membaca saya aja kalah dengan para produser film itu hihihi.... Shame on me. Teman saya sudah membahas film ini, eh, saya baru membaca bukunya tahun berikutnya dan heboh dg filmnya kemudian. Halahhh... Basi bener ya saya ini huhuhu...
Nah, gara-gara nonton trailernya, dan tahu, disitu ternyata ada abang Brad Pitt dan Benedict Cumberbatch, saya jadi ngebet pengen baca bukunya. Filmnya sendiri sih sudah heboh sejak tahun lalu ketika berjaya di penghargaan Oscar. Eh, saya baru heboh sendiri sekarang. Plaakkk...
Eh, ini dia buku inceran saya minggu ini.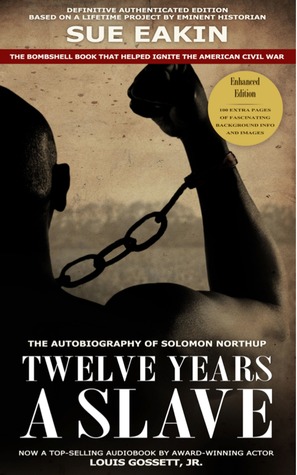 12 Years A Slave by Solomon Northup
Sinopsis
This unforgettable memoir was the basis for the Academy Award-winning film 12 Years a Slave.
This is the true story of Solomon Northup, who was born and raised as a freeman in New York.
He lived the American dream, with a house and a loving family - a wife and two kids. Then one
day he was drugged, kidnapped, and sold into slavery in the deep south. These are the true
accounts of his twelve hard years as a slave - many believe this memoir is even more graphic
and disturbing than the film. His extraordinary journey proves the resiliency of hope and the
human spirit despite the most grueling and formidable of circumstances.
Hmmm, ebooknya sih sudah saya punya beberapa hari lalu. Tapi, untuk kisah mengharu biru begini, ngga rugi kalo misal saya punya bukunya. Jadi ingat, dulu beli The Help dari lapak penerbit yang nyaris tutup, dengan menggandeng banyak teman buku lain biar ongkir ngga rugi Wkwkwk.... #carialesan
So, what's your dream book this week?
1.Silakan follow blog Books To Share – atau tambahkan di blogroll/link blogmu =)
2. Buat posting mengenai buku-buku (boleh lebih dari 1) yang jadi inceran kalian minggu ini, mulai dari yang bakal segera dibeli, sampai yang paling mustahil dan hanya sebatas mimpi. Oya, sertakan juga alasan kenapa buku itu masuk dalam wishlist kalian ya!
3. Tinggalkan link postingan Wishful Wednesday kalian di Mr. Linky (klik saja tombol Mr. Linky di bagian bawah post). Kalau mau, silakan tambahkan button Wishful Wednesday di posting kalian.
4. Mari saling berkunjung ke sesama blogger yang sudah ikut share wishlistnya di hari Rabu