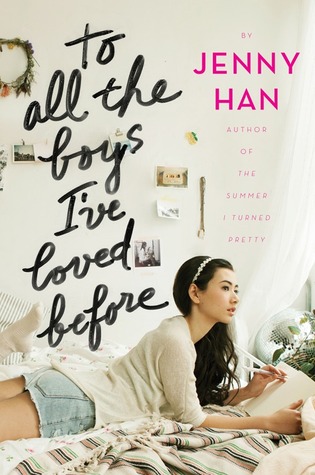 Ebook format, 277 pages
Published April 15, 2014 by Simon & Schuster Books for Young Readers
Rating 4/5
Do you write a diary? Or letters to your crush(es)? I did write a diary about boys I had a crush on. Elementary school (there were 2, oh Gosh!), junior high (there were 2, too… ), and then another 2 when I was in college. Eh, did I skip senior high? Ehm, yes I did, since I went to all female-student-school, so it was a kind of boooringgg… I wrote all about them. I wrote their names in something like different letters that now I forgot how to read it. And now, I got mixed up which one is which in the diary wkwkwkwk… once, my sister found out who my crush was, and I got all embarrassed. What if my crush read my diary, well, I would migrate to Japan, for sure wkwkwk…
Lara Jean, wrote good-bye letters to her boys she's loved before. One day, they were all accidentally sent to her crushes. First, a real hunk named Peter Kavinski, next was Josh, her sister's ex BF, and 3 others.
Lara Jean couldn't go anywhere but faced all things would happen to her. Peter, popular as Genevive's
boyfriend, was the one who could bail her out from Josh. She couldn't imagine what would happen to her-Josh or her-Margot, or even her-Margot-Josh. They used to be together. From then on, Peter-Lara Jean were officially dating now that Peter broke up from Gen. however, both of them know that it's just a coverup.
Well, if you like watching Korean drama, I think this book has those elements that most Kdramas have: two-guy-falling-in-love-with-the-same-girl, one guy is nice, another guy is almost the opposite (but sweet later), the nice guy who keeps his past love then turn to another one, the guy who can't move on but then realize his true love, and the girl who lacks of confidence that she has all the things worth to fight for, etc. Well, I don't know how many Kdrama I have watched so I could find those elements as soon as I read this book. Another question comes up is why do I bother finishing the book? Yup, because I found that it's nice and cute to read such a book. Perhaps, I would stop watching from the first or the second CD if I already predict the story, but reading is kind of different. I also love the way Lara Jean maintains her feelings to Peter, and how Peter treats her. The relationship between them goes well, with Kitty beside them. I also love how Dr. Covey, Lara Jean's father nurtures them, the Song girls, with some Korean value, responsiblity and cuisine. I feel like tasting some cuisine they discuss. The relationship between Margot-Lara Jean, sometimes, feels like I see my own relationship with my sisters. We did some fight, dispute, and didn't talk for some time, but then we made up. Sisters are supposed to fight and make up, because they are sisters and sisters always find their way back to each other. (Lara Jean, page 261). I did look up my sister and take her as my role model, but then we turn out to have walls that put us in different sides. However, we do share things and time together, but, it has never been the same again (people change, remember?) :D
All in all, I look forward to the second book that will be released by the end of this May. Thanks to a friend of mine who warned me that this book is going to end mid-air…. Hahaha…