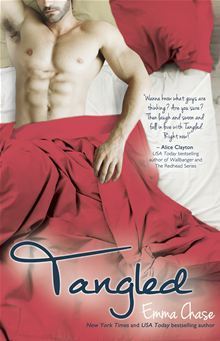 Ebook epub format
254 pages
Published August 2nd by Gallery books
Begitu terus selama saya membaca novel semi kipas ini. Tak pernah saya menemukan novel romens dengan bumbu adegan uhuk dengan komedi kocak begini.
Andrew Evans, alias Drew, pengusaha sukses, dengan karir cemerlang plus petualangan ranjang tak terbatas, bukan petualangan cinta lo.. Karena dari sekian wanita yang bersamanya tak ada perasaan cinta sedikit pun. Hingga ia bertemu Kate Brooks...
Iya ya. Sangat klise. Laki-laki petualang yang pada akhirnya bertekuk lutut pada seorang wanita. Menjadi tidak klise dengan bumbu kocak disana sini secara cerdas oleh Emma Chase. Kalau tidak asik, bagaimana mungkin novel ini menjadi pemenang Goodreads choice winner 2013.
Drew is head over heals in love with. And so is Kate. But there's one mistake Drew did that Kate can't take him back. Drew pun ambruk. Ngaku sakit flu seminggu penuh. Berantakan. Bau. Sengsara pokoknya... Duh, segitunya.
But, he has to take her back. At any price, even his pride. Ciyeeeee....
Drew pun mulai mengejar Kate. Mulai dari mengirim pesan romantis, kirim bunga, kirim rombongan penyanyi yang mengikuti Kate dengan lagu-lagu romantis hingga mengirim seorang suster!!! Hahaha... Emang sudah gila si Drew ini. But, sweet...
Meski klise, dan proses baca saya yang tersendat-sendat, ternyata tak mengurangi antusiasme saya untuk menyelesaikan novel ini. Saya suka dengan segala analogi kocak tiap kali Drew mengalami sesuatu. Simak satu yang ini
Here's the deal: I've worked for months to get her where she is right now. I've spent night after endless night wanting, dreaming, fantasizing about it.

Let's say you get stranded on a desert island and can't eat for a week. And then the rescue ship finally shows up with a big plate of food. Would you take one taste and throw the rest away?

Of course not. You'd scarf down every bite. Devour every crumb. Lick the plate clean.
Hahaha... Membayangkan situasi seseorang yang sebegitu laparnya akan cinta seseorang (lebih tepatnya s*x), Drew menggambarkan laparnya Chuck Nolan di Cast Away. Jilat piring hingga kinclong

:D
Meski menyebalkan bagi kaum wanita yang pernah ditidurinya, Drew tetap menjadi oom favorit bagi ponakan tersayangnya, MacKenzie. Saya tertawa tak ada habisnya tiap kali si oom ini menggunakan kata-kata yang tidak senonoh di depan ponakan. Si oom harus bayar. Tak jarang, tanpa sadar, kita menggunakan kata yang kurang bagus didengar anak-anak hingga si anak aktif menggunakan kata tersebut. Pelajaran yang lumayan dari uncle Drew hihihi...
Overall, saya sangat sangat terhibur membaca seri pertama Tangled ini. Pengen sih lanjut ke Twisted yang diambil dari PoV nya Kate. Tapi sepertinya banyak yang kurang suka dengan buku keduanya dari komen-komen di goodreads. Mungkin saya tertarik juga. Tapi nanti. Kapan. Entahlah... :D